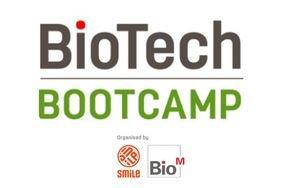 BioTech Bootcamp by SmiLe and BioM (Schulung | Planegg)
Looking to bring a life-changing healthcare solution to market? Join BioTech Bootcamp by SmiLe and BioM and move your idea forward with Europe's leading biotech incubators.
BioTech Bootcamp starting on Sep 6, 2021 is an 8 weeks intensive business training program designed to equip aspiring biotech entrepreneurs like you with the knowledge, skills and industry connections required to transform a breakthrough biotech idea into a successful scalable business.
The program is completely free. We don't ask for any equity and you pay zero fees.
But the expert training, coaching, mentorship and networking opportunities you gain will be of immeasurable value to your business, opening doors for you in Europe's top two biotech hotspots, Munich (Germany) and Medicon Valley (Denmark and Sweden).
Further information and registration: https://www.smileincubator.life/biotech-bootcamp/
Eventdatum: 06.09.21 – 29.10.21
Eventort: Planegg
Firmenkontakt und Herausgeber der Eventbeschreibung:
BioM Biotech Cluster Development GmbH
Am Klopferspitz 19a
82152 Martinsried
Telefon: +49 (89) 899679-0
Telefax: +49 (89) 899679-79
http://www.bio-m.org
Weiterführende Links
Für das oben stehende Event ist allein der jeweils angegebene Herausgeber (siehe Firmenkontakt oben)
verantwortlich. Dieser ist in der Regel auch Urheber der Eventbeschreibung, sowie der angehängten
Bild-, Ton-, Video-, Medien- und Informationsmaterialien. Die United News Network GmbH
übernimmt keine Haftung für die Korrektheit oder Vollständigkeit des dargestellten Events. Auch bei
Übertragungsfehlern oder anderen Störungen haftet sie nur im Fall von Vorsatz oder grober Fahrlässigkeit.
Die Nutzung von hier archivierten Informationen zur Eigeninformation und redaktionellen Weiterverarbeitung
ist in der Regel kostenfrei. Bitte klären Sie vor einer Weiterverwendung urheberrechtliche Fragen mit dem
angegebenen Herausgeber. Eine systematische Speicherung dieser Daten sowie die Verwendung auch von Teilen
dieses Datenbankwerks sind nur mit schriftlicher Genehmigung durch die United News Network GmbH gestattet